NEW VERSION 3.3
Click here to read all about it
or here to schedule a demo
Control the Change
McCabe TRUEchange provides an intuitive and logical approach to software versioning. It helps organizations manage their change process, speed application delivery, and ultimately improve software quality, all at a lower total cost of ownership.
While other solution providers talk about a lower total cost of ownership - TRUEchange actually delivers. It deploys quickly and is easy to use, resulting in a significantly reduced 'CM administrator to developer' ratio, and flexible, accelerated release schedules.
The Flexibility of Selective Migration
TRUEchange was developed to provide support for parallel releases. One critical requirement for development organizations maintaining multiple release streams is support for atomic change packages. The second requirement is to allow for the simple manipulation of these change packages.
With TRUEchange, manipulation of change is performed using selective migration: the ability to link a single change among multiple releases. Using selective migration, a developer can implement a change, and then share that change with other releases. This sharing provides mechanisms for modifications that allow the change to be tweaked such that it fits cleanly within an altered environment. Reuse of TRUEchange change is unlimited.
Clean Support for Parallel Streams
With TRUEchange, users manage projects and not files. Each version or release stream is effectively a pool of change applied to a labeled baseline.
From TRUEchange's Stream View, the drag and drop facility is used to selectively migrate change across release streams. This powerful functionality allows a user to apply change across versions in seconds. Compare that to the hours or days it would take a user to selectively apply change with other SCM tools.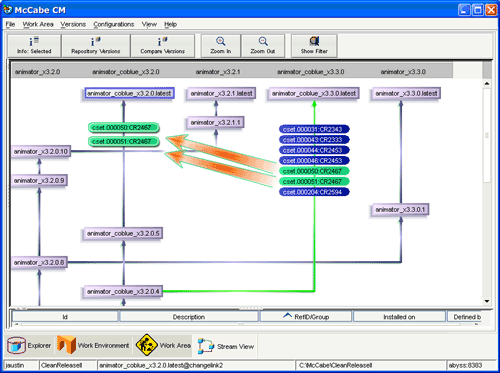 TRUEchange Stream View allows you to drag-and-drop change in any direction across the application lifecycle.
Stream View provides a visual representation of the history of each project, including the relationships between versions within the project. Users no longer have to guess which changes exist within a particular version. Stream View displays the differences as well as the similarities in each development stream.
Enhancements, defect corrections, or patches can be applied to relevant releases in seconds or minutes as opposed to hours or days.
Distributed Development
With the advent of distributed development teams, the need for a remote Configuration Management solution has become more and more prevalent. You need to make sure that the solution you choose is powerful enough to be able to manage change throughout your enterprise, whether local or across the globe, without the limitations that come with an HTML or browser-based solution.
TRUEchange enables your development team sees the same GUI no matter what plaform they are using. Consistent functionality across all platforms also means a much lower learning curve and quicker time to market.
TRUEchange also simplifies product installation and upgrades with a URL-based client installation. You get a single CD with all platforms and an upgrade utility to ease product distribution. Upgrades are provided via the network making it unnecessary to provide local system installation/upgrade on a user by user basis. Update detection and automated download ensures that users have the most current version.
TRUEchange's secure distributed multi-site development environment provides access to dispersed repositories. This provides single point of access to applications without synchronization or multi-site overhead.
The client-side conflict resolution vs the traditional server-side resolution gives developers more control. The benefit of this is that conflict is resolved by the developer before changes are checked into the repository and administrative overhead is reduced.
Faster Release Cycles
Whether you release applications yearly, quarterly, weekly, or daily, TRUEchange can support your schedule. No longer do you have to wait for every change scheduled in a release to be finished before moving on to QA, testing, or production.
TRUEchange allows you to selectively promote and demote specific change requests within the software life cycle, while other more complex issues or untested changes remain in coding until they are resolved. This powerful feature saves time and increases the efficiency of software testing professionals.
Security, Traceability & Reporting
TRUEchange secures all source files in its repository and tracks who accesses files and what changes they made. TRUEchange provides the ability to pass federal, state, and internal software audits (Sarbanes-Oxley, ITIL, etc.) by providing secure movement of code, segregation of roles and responsibilities, robust reporting, trusted source and roll back capabilities.
Platform and File Support
We are committed to supporting the latest technology advances. If you do not see your platform on this list or have any questions at all, please contact McCabe.
Platform
Windows
UNIX - (Solaris, HP-UX, HP-UX Itanium, Tru64, AIX, Irix)
Mac OS X - (PPC)
Red Hat Linux - (x86)
SuSE Linux - (x86, IBM z-Series, IBM i-Series, IBM p-Series)
OpenVMS - (Itanium, Alpha, VAX)
File Types
TRUEchange supports all file types
Call 800-638-6316 or click here to get more information or schedule a FREE Web demo.